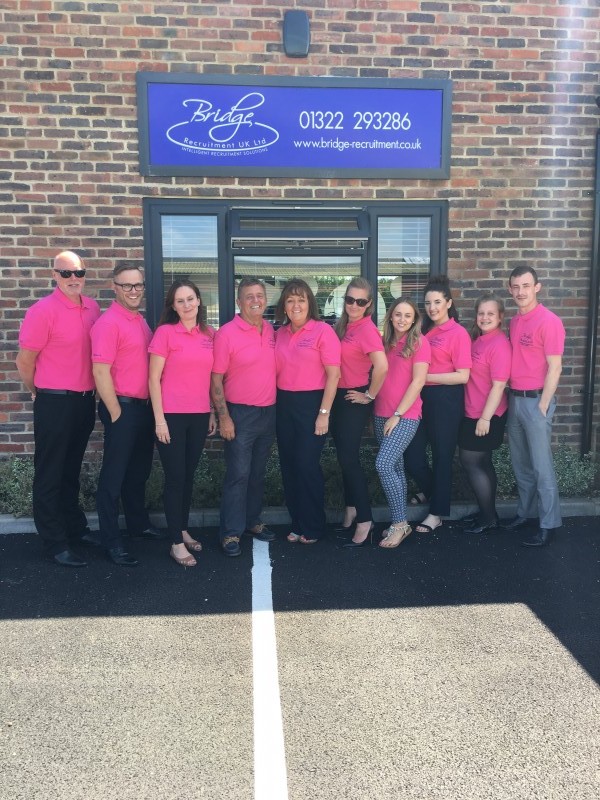 BRIDGE RECRUITMENT ANNUAL GOLF DAY!
June was such a busy month and it was all systems 'Go' at Bridge Recruitment offices getting organised for our Annual Golf Day.  The weather leading up to Friday 30th June had been dreadful and we were all expecting the golfers to be sporting their wet weather gear for the day.  Thankfully that was not to be and, as in previous years, the weather turned out to be absolutely perfect. 
72 Golfers arrived at Hever Castle Golf Club and after a hearty full English, headed out to the course for the competition to commence.  With their Mulligan Balloons attached, Buggies and trollies could be seen all over the course. The Bridge Team, in their bright pink polo shirts, whizzed around on buggies to deliver refreshments to the thirsty golfers for the duration of the day. 
Our chosen Charity for this year was Jo's Cervical Cancer Trust.  This is the only charity in the UK who support ladies diagnosed with this dreadful disease.  We worked with this charity in recognition to Hayley Everson, Legal Consultant at Bridge as she was diagnosed with cervical cancer 8 years ago.  Thankfully, Hayley has now fully recovered from this and campaigns through radio and TV to raise awareness and provide support to anyone who faces the same challenges as she did. 
A massive thank you goes to everyone who donated prizes for the Live Auction and the raffle, your generosity enabled us to raise so much more money than we thought possible. 
We are very grateful to everyone who attended for their generosity and kindness in support of our charity. At last count, we had raised an amount of £3500.00.  We still have some further funds to be counted from the Silent Auctions so a final figure has not yet been reached.  This is a fantastic achievement and I am certain it will go a long way to supporting the Charity and anyone who is currently facing this disease head on.
We will, of course, post photos of the presentation of the cheque to Jo's Cervical Cancer Trust once we have a final figure. 
The weather held out perfectly and thankfully, we were able to sit outside for the BBQ in the late afternoon sun.  The food was superb and was followed by a presentation of trophies to the winning golfer, lady golfer, runner up and teams.  Congratulations to them all and we hope they will all be back next year to defend their titles!!
All in all, another fantastic day and a massive thank you to one and all. 
We will be in touch very soon with a date for next year!!