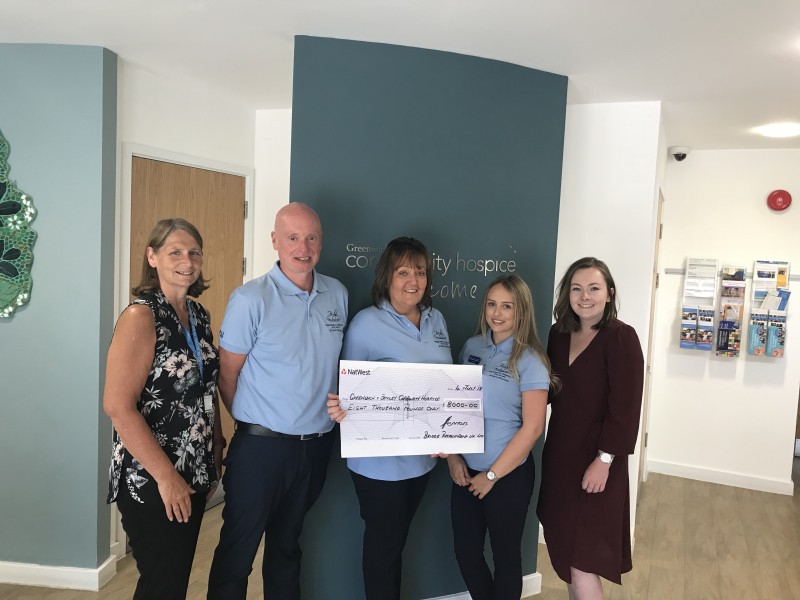 PRESENTATION OF OUR CHEQUE FROM OUR CHARITY GOLF DAY TO GREENWICH AND BEXLEY COMMUNTIY HOSPICE
 What a great day we had this year at our Annual Charity Golf Day held on 1st June and we broke the record for the amount of money raised.  Due to the generosity of all who attended we raised a fantastic £8000 for our dedicated charity, Greenwich and Bexley Community Hospice. 
The Bridge Team didn't need to do their usual Sun Dance this year as the weather had been great all week and didn't disappoint on the day.  Some of the golfers were positively glowing by the time they got back to the Club House at the end of their rounds.  This was not necessarily from the sun for our lady golfers, it was more from the bottles of Prosecco delivered by our team out on the course!!! 
We were so happy to present the cheque for £8000 to the Hospice on Wednesday 4th July and we think that the examples given below of how the funds will make a difference to the patients and their families makes it all so worthwhile.
£8,000 is enough to pay for a whole day's care on our inpatient unit and in our Day Hospice.
At the Hospice, care is provided around the clock on our inpatient unit where we can provide symptom control, emotional support, respite care and care at the end of life. Our Day Hospice provides a friendly and supportive environment in which to meet socially with others in similar circumstances, while accessing a range of services including medical treatments, emotional support, complementary therapies and review of symptoms. Attending Day Hospice can also provide a change of scene for patients and a much needed break for carers.
Or
£8,000 is enough to pay for two day's care in our community and a day in our Day Hospice.
Many people prefer to be cared for at home or in their care home, following their own routines in familiar surroundings with their loved ones nearby. Our community nursing team can provide this, and by working with other professionals we ensure that people receive the very best care and support possible.
Once again, a very, very big thankyou to all who attended and for their kindness and generosity in helping us to support this very worth cause.
We look forward to next year's Golf Day on 7th June 2019.  If you would like to book early for a great day of golf, please contact Aimee Webb on 01322 293286 or aimee@bridge-recruitment.co.uk