"We are an extremely busy firm of accountants and needed to take on two new members of staff to assist us as a matter of urgency.  We contacted Bridge Recruitment with our requirement and they managed to find us two excellent candidates, who we employed immediately. We would highly recommend them, without any hesitation, as the service provided to us was excellent.  We are planning to use them again for another position."
HR Manager / Accounting Practice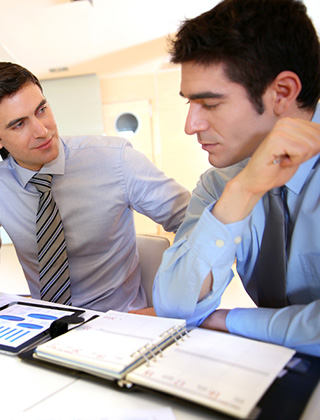 With specialist understanding of the financial world, we successfully source dedicated, passionate candidates for key financial roles.
At Bridge Recruitment, we are here to help your business be successfully 'doing something about it'. Our Finance Team have dedicated themselves to becoming specialists in their understanding of the world of Finance. They provide a passionate, honest and diligent approach to the recruitment of staff in this essential sector. We understand that a strong Accounting Team is the key to the success of any business. Our Account Managers get to understand the needs and passions of a business and successfully source dedicated, passionate candidates for key financial roles. Bridge Recruitment provides candidates across all levels of business from an Accounts Assistant through to a Board level Director. We have a thorough understanding of accounting procedures and qualifications for the following positions:
Accounts Assistant
Bookkeeper
Payroll Specialist
Taxation Specialist
Credit Controller
Purchase ledger
Sales Ledger
Finance Manager
Management Accountant
Financial Analyst
Cost Accountant
Financial Accountant
Financial Controller
Group Financial Controller
Financial Director
Accountancy Practice Staff
Bridge Recruitment has developed into somewhat of a specialist for the recruitment of staff into Accounting Practices. We understand the frustration felt by accounting practices when provided with staff that have little to no practice experience. That's why we have a dedicated team specialising in the recruitment of Practice experienced staff. We can provide your business with both part and fully qualified Chartered Accountants for a variety of positions including:
Trainee Chartered Accountant
Semi Senior Accountant
Senior Accountant
Client Manager
Practice Manager
Tax Specialist
Audit Specialist
Partner
---
Contact our Finance team on 01322 293 286 to find out how we can work with you to develop your team.