Watch the Apira Testimonial Video
I write to you to thoroughly commend the work and service provided by your colleague Kirsty Cutts.

Kirsty was very efficient in sending out the initial forms to me, and following this she arranged two interviews for me this week which resulted in two offers of employment.

Kirsty has been simply outstanding, and is a credit to your business.

I look forward to finalising arrangements for my chosen role, and shall not hesitate to recommend Kirsty and Bridge Recruitment

We have worked with Bridge Recruitment who have supplied trades and administration staff for our business, for  number of years. They have proven to be excellent in their field, providing competent candidates in in a short time frame, who in lots of cases have stayed with us. We recommend without reservation this company.

Firstly a massive thank you for the card, was very well received. 

I would like to take this opportunity to express my personal gratitude for the help you have provided me in finding my new role. Your support and guidance throughout the entire process was exceptional, unlike any I have ever experienced before.

I am enjoying the role in the new company, and I am looking forward to the challenges ahead. 

Again my most sincere thanks. 

Just wanted to say thanks for your help recently and leave a positive review for Emma.

I have now found a permanent role with a foreign exchange company, but just wanted to say that I appreciated your help with me in finding employment. You contacted me regularly regarding roles, touched based on my situation frequently and understood my needs and what position I were after. So thank you personally for that.

Also thank you to Bridge recruitment for keeping me up to date with roles, professionalism and for being very friendly and helpful.

Dealt with Hayley who has been excellent in helping with my job search. She was fully supportive throughout the whole process , nothing I asked was too much and she went above and beyond including getting a document sent to me out of her work hours and replying to my messages on the weekend which I really appreciate! Thanks again you have been amazing.

I have dealt with Hayley Everson for the last couple of years and can highly recommend her. She is great to work with and sources quality candidates.

My pleasure Rob. After the rejection from my original interview you promised to endeavour to find another position for me to be considered for. You did so within twenty four hours – whatever the outcome of my interviews you stuck to your word and I very much appreciate that. I have almost finished the e-mail and feel that it makes good reading . My very best wishes for an enjoyable weekend to you and your family.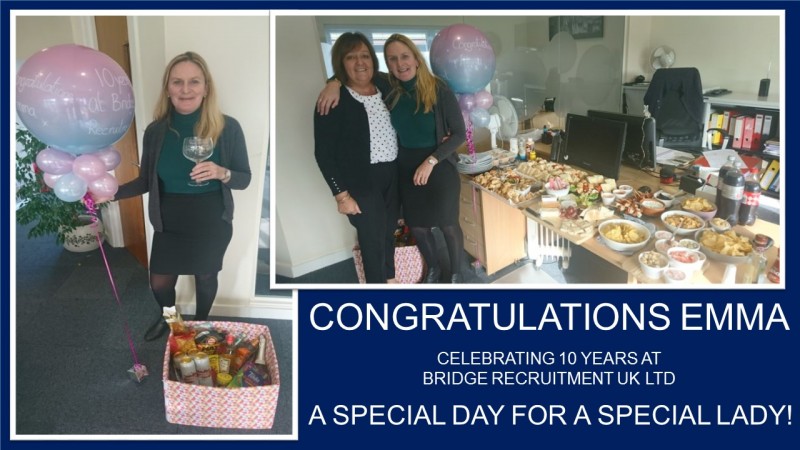 5th November 2019
Congratulations to Emma on her 10 Year anniversary with Bridge Recruitment.