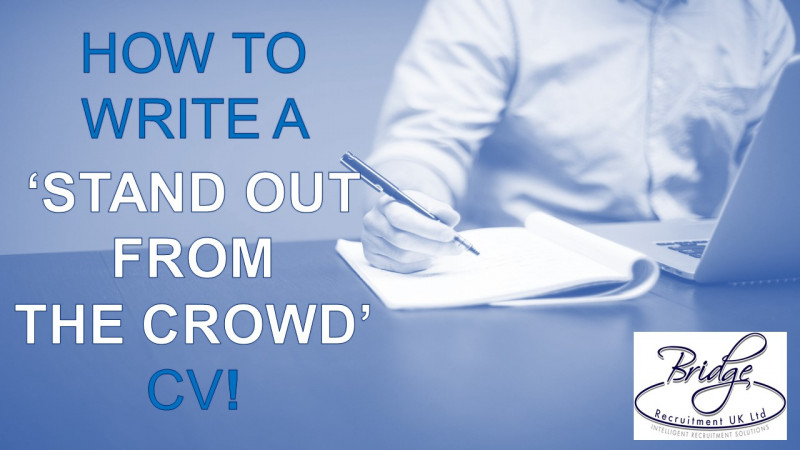 CV Writing Advice
WRITING A 'STAND OUT FROM THE CROWD' CV
How do you write a CV that will make it to the top of a pile of candidates with similar skills and experience? We would like to give you our advice and tips for creating a CV that highlights why you should be the first to be interviewed for relevant roles. When starting your job search it is most important to revisit your CV and make sure it is completely up to date. As Recruiters we see so many CV's on a day to day basis, so what can you do to 'Stand out from the Crowd' and ensure we match you as the very best candidate for your dream role? We hope that the tips given below will help you to get it right first time and help you to be first to secure that interview.
WHAT CV FORMAT IS BEST?
Always format your CV according to the role you are applying for. For most roles, especially Professional Services, it is best to stick to a chronological layout giving your most recent and relevant position at the top. Bullet points always provide an easy read for potential employers but do not provide too many. Make sure you keep the reader interested with the most relevant and most impressive! Your contact details and personal profile/statement should be at the top of your CV before moving on to your work history. With each role, include the company name, employment dates and a short summary of the industry and business. Highlight your industry relevant qualifications and knowledge throughout your CV and put the most prominent at the top so that the recruiter or future employer gets an idea of your suitability over that of other candidates. It is always good to include a reason for leaving as this is one of the first things an Employer wants to know. It is not essential to give a reason, especially if you have spent a good length of time in roles as this can be clarified at interview stage. If you have been temping or contracting, giving a reason for leaving can be useful to a potential employer as it will show that you are not simply a 'Job Hopper' but will indicate that you are versatile and can pick things up quickly.
HOW FAR BACK SHOULD EMPLOYMENT HISTORY GO?
This depends on the number of roles you have had and the skills and accomplishments you have to offer. If you have more than 10 years' experience, highlighting the most relevant roles for the role you are applying for. It is unlikely you will be able to fit everything on one page. Two to three pages are fine but ensure you have a good structure with clear sections and headings. Make sure you keep it interesting and to the point.
PROFILE IT SYSTEMS SKILLS
Competency in the use of different IT systems is an important factor in many industries and recruiters will look out for this when shortlisting candidates for interviews. Highlight your skills in IT Systems at the top of your CV within your profile, so it can't be missed. ANSWER EMPLOYER'S QUESTIONS BEFORE YOU GET TO INTERVIEW Show how great you for the job in the CV and answer potential questions before you get into the interview as Employers don't have time to read between the lines. We have highlighted a few questions we feel Employers may ask themselves when reading your CV:
How much training will this person need?
Can they do the job?
Will they fit our company culture and team?
Will they be here for the long term?
What value will they bring to this organisation?
It is important that you answer these questions as best you can in your CV. You need to make sure you match their needs and that you are up to the job. You need to highlight that you can hit the ground running and that you will transition smoothly into their role. Use 'power' words such as 'solved', 'launched' or 'led' to demonstrate all that you have achieved.
REVIEW AND REVISIT
Never write your CV in one sitting and be tempted into thinking it is good enough first time around. Go back to it a few times and review it. You will be surprised at what you have missed and what can be added to make it even more appealing to potential recruiters. Check it for grammatical and spelling mistakes as these can give a bad impressions and could even cost you the job. After proof reading, ask someone to double-check it for you.
KEEP IT UP TO DATE
You may not actively be looking a new job but it is always an idea to update your CV. This will save you loads of time if and when you do begin your job hunt and will ensure you remember important dates, events and projects that may be relevant.