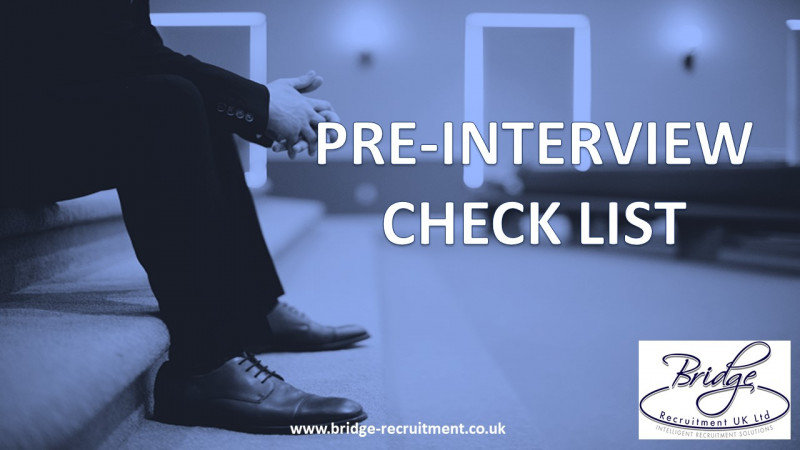 Pre-Interview Checklist
PRE-INTERVIEW CHECKLIST
So, you have finally bagged that interview! Preparing for the interview is vital to securing your dream job. For most people, job interviews are inherently nerve-wracking situations. There is something about interviews that ratchets up the tension and stress. Bridge Recruitment want to help you succeed in nailing the interview. Here are a few simple steps to follow….
INTERVIEW ATTIRE
The way you dress for a job interview tells potential employers a lot about you. If your going for an interview at a company where no one ever wears a suit – not even the MD, should you still dress formally for the occasion, or will you look out of place? and if you do decide to go for a more casual look, how can you make sure that you still appear professional and respectful? regardless of what everyone else at the company is wearing, it is essential to take particular care with your appearance during a job interview, a candidate dressed in a suit or dress will usually make a much better impression than the candidate dressed in jeans and trainers.
Showing up to an interview dressed appropriately for the role you are interviewing for shows that you put effort into yourself and that you care. A good interview outfit can help with your confidence going into the interview. A good rule of thumb is to dress one level above what staff at the company are wearing on a day to day basis, for example, if they are business casual then it is best to break out that suit that is collecting dust at the back of the closet!
Make sure that you always look polished. Don't show up wrinkled, stained, ripped or ill-fitting clothing. Keep it simple, you want the interviewers to focus on you and not on your attire. Have a dress rehearsal the night before your interview. If your dress doesn't fit anymore or your shirt has that hole that you forgot to stitch up then this can be done in time the night before the interview, so you won't be stressing out on the day!
If you feel great on the outside it will give you confidence and calm the inner nervous crazy person in your head!
RESEARCH THE COMPANY
Doing some research on the company is a must before any type of job interview-whether it's face-to-face, by phone, or video. By putting on your detective hat and investigating potential employers, you will discover details about the employer that will better prepare you for any interview.
First and foremost, you should know what the company looks for in a qualified candidate. This enables you to position yourself as the best candidate for the position. Start by visiting the company's website and social media profiles, then do some online research to find news articles and press releases about the business. To discover the skills and experience the employer values, read between the lines of the job postings. You can always find out information on the employer's career page to get an idea of the type of employees they desire.
Your research should give you a better understanding of the company's values and recent achievements, whereas company newsletters and information on their social channels can give you an insight into the culture and their customer brand.
Besides the company itself, brush up on the wider industry – the current climate, competitors, trends, challenges, and forecasts.
Thoroughly doing your homework on the company and the industry should help to boost your credibility and confidence ahead of the interview. You'll be able to demonstrate a good level of knowledge to the employer or recruiter, as well as showing them how interested and invested you are in a career there.
Check out the key players of the organisation. You can find this out, usually by reading the employees, 'About Us' page or employees bios. It is also a good idea to check out what the individuals say on Twitter and LinkedIn to learn about what the employees say about the company online.
THE SECRET WEAPON THE JOB SEEKERS SHOULD NOT IGNORE
So, you have gained insight to the company the next thing is to match your skills and experience to what they're looking for. You should prepare to answer questions about your reasons for applying, and why you're qualified for the job. If it's a popular and well-established role, why not research similar positions at different companies, to get a better understanding of the day-to-day activities and responsibilities you can expect?
No need to panic. You actually have more resources at your disposal than you might think. If you are lucky enough to get hold of the job description before entering the interview, then research each element of the job on the internet and how you can pair up your experience with the criteria required. Create practise questions, if for example the position requires "The ability to work in a team or independently", you can turn that into, "Tell me about a time where you worked in a team" or "tell me about a time when you worked independently" Go through the entire job description and turn everything into a question, then practice answering them aloud! Its always smart to have a few stories ready to go in case your interview gets a bit shaky. The job description is the best place to start when you are trying to figure out what kind of stories would be most appropriate to share. Use the job description like a check list. Go through and come up with an anecdote for each trait.
PREPARING FOR THOSE DREADED INTERVIEW QUESTIONS
The purpose of an interview is to find out more about who you are and how you would fit into the role. Thanks to your CV the panel already know you have the qualifications to do the job, now they just want to learn more. In almost all job interviews, you should expect to be answer a series of competency-based questions. The employer or recruiter will ask you to describe a real-life instance where you demonstrated a particular skill or behaviour. The assumption is that past behaviour is the best way to assess a candidate's potential future performance. If you are feeling unsure, you are always welcome to call Bridge Recruitment. We are here to help you with any difficulties you may have in preparing for these questions.
Have a think about the key qualities, experience and skills mentioned in the job description, and plan out around 5 real-life examples that you can share in the interview. Depending on the role you're applying for, employers often look out for the following key skills in candidates:
Problem solving
Using initiative
Teamwork
Flexibility
Decision-making skills
Adaptability
Communication
Conflict resolution & Leadership
"Tell me about yourself."
It's a common interview question that tends to pop up early in the interview. Which means it's a good opportunity to make a good impression. Interviewers throw this one out there straight away, to understand who you are as a person before delving into career questions. Before the interview, spend time in getting to know yourself. Think about where your strengths lie.
THOSE DREADED COMMON QUESTIONS
"Why are you leaving your current job?" Although you may think that this is a question intended in catching you out, the reality is that employers are just looking to understand the reasons behind your job search and the decision to leave your current role. You should never lie about your reasons – so make sure you have got your answer to why you want to leave your current job prepared beforehand.
"Why do you want to work for this company?" The obvious answer that comes to mind is, "Because you have an opening and because I need a job!" While this may be true, this will not earn you any points in the job interview. The interviewer is looking for an answer that indicates that you have thought about where you want to work and that you are not just sending your cv to any company with a job opening. If you have done your research on the company, then this should be an easy one to answer.
"What would you describe as your main weaknesses?" You may think that this is the hardest question to answer of all. However, this question is quite an easy one! You can swing the negative into a positive which will make you look super! For example, you could answer, "I focus too much on the details."
You can really help yourself by preparing questions and answers by researching online, there are many tips and guidance there to help you.
LAST BUT NOT LEAST…
Make sure you get a good night's sleep
Easier said than done you say! Pre-interview nerves can play havoc with your rest, try to make sure you get a good night's sleep before the interview, and top up your energy levels on the day with a healthy breakfast. This will set you up just right for the day.
Check your Route in advance
Proper planning will help you arrive on time for the interview and eliminate the stress of running for a train or fighting for a taxi! Check the interview location and if possible, do a test run the day before so you know where to park or how far away the bus stop is from the location of the business. It could be a good idea to ask the employer or Bridge Recruitment on the parking situation before you arrive. Arrive 5-10 minutes before your interview time, no earlier, and never be late.
Be friendly to all the staff that you come into contact with.
They may be asked for their opinion on you.
Bring an up to date copy of your CV, notepad and pen to the interview.
This shows that you are taking the interview seriously and are very keen.
Make notes if you want to expand on a particular part of your CV during the interview.
Remember that you are also interviewing them.
You are also working out if his position works for you too. Assess the company and see if you want to work there. Think about this as you walk in and around. Could you see yourself working there? The role and company have to be right for you too. Think about any questions that you may have and make a note of them so you don't forget. Ask when you can expect to hear back. It's sometimes difficult to think of a question when asked at the end if you have any, and most of the time your questions might have already been covered in the interview. If that happens, you could say that all of your questions have been answered but that you thought (a, b and c) were really interesting.
HOW TO CLOSE THE INTERVIEW
If you want the role, tell them you are interested and why. Remember to smile. Try to be yourself and show off your winning personality. If you are interested in the position, then remember to restate your interest. Summarise why you think that you are suitable for the position and find out the next steps. After you have finished the interview, later in the day, send a brief email thanking them for taking time out to see you today. This goes a long way and keeps you fresh in their minds, especially if they have been interviewing a large number of candidates all day.